Fake Cakes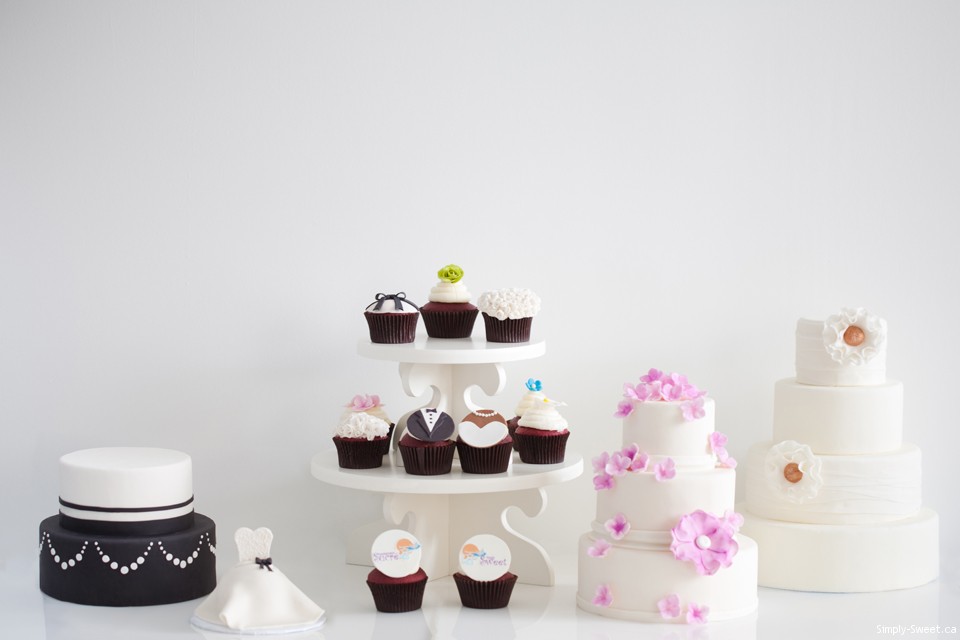 With the increasing popularity of sweet tables and venues providing desserts with the meal, renting or buying a fake cake is an affordable option.
Fake cakes give a luxurious wedding cake that is identical to real wedding cakes. Simply Sweet uses Styrofoam layers (circle, square or other shapes) and cover them in fondant and decorate them with gorgeous accents (edible flowers, ribbon, piping etc.) the same as a real cake. From simply sweet modern or elaborately extravagant designs, each fake cake is uniquely crafted with creativity and attention to detail. Fake cakes are visually identical to real cakes.
Want a bigger cake than you actually require? If you don't need a larger cake due to a dessert buffet or caterer-provided dessert, fake cakes are a simple way to achieve the 'traditional' 4, 5, 6 or 7 layer cake without having to serve all that cake to your guests – reducing the normally large amount of wedding cake that goes to waste because not every guest will actually eat cake.
Also, renting a fake cake allows you to view your cake before the wedding day – no surprises or stress!
Still want that traditional big wedding cake for photos? It's easy! A fake cake provides you with a cost-effective option and you can still have the traditional cutting ceremony, as well as fabulous cake cutting photos. The top tier can be a 'real' cake layer or you can have small real cake (or cupcakes) behind the cake for cutting time. You smile at the camera when you 'cut' the cake & then feed each other the 'real' cake.
Your fake wedding cake can be displayed the entire time of the reception – and will look great on any midnight sweets table. While your sheet cakes are refrigerated for ultimate freshness and taste for your guests.
Since fake cakes are sturdier than real cakes they are easy to transport, lightweight and less likely to be damaged during set-up and delivery – just slide it out of the box and onto the table! Our fake cakes can easily accommodate most cake toppers and fresh or silk flowers.
Unaffected by weather, as long as they are sheltered from direct moisture they will hold up in any weather without collapsing, drooping or wilting – perfect for outdoor weddings.
When comparing the costs… If you were having a 150 person wedding, cake prices usually start at $4 per serving. That's $600, plus delivery & set-up etc. Prices can also go up a lot more depending on how detailed the design is. If you rent a fake cake you'll probably only spend $150 (depending on detailing & number of tiers) and you can buy sheet cakes to serve guests (on average sheet cakes are a fraction of the cost of tiered cakes & usually feed 50 people at a cost of $100 each or you could always go the costco route for only $30 each), which will total around $90 – 300. That's $150 -360 savings and a lot less hassle and stress for any bride-to-be! The prices of fake cakes are so affordable many brides choose to keep the fake cake to remember her special day.
A fake cake is the economical choice that still provides a 'WOW' factor while you can still serve fresh from-scratch cake to your guests!