I always appreciate when my clients give me feedback and LOVE getting pictures. This was for a cake I so enjoyed making for the Chinese New
Year, especially since I was born in the year of the dragon as well… and not just any dragon – the FIRE DRAGON! (see below for more details)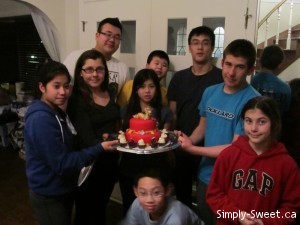 For those of you not familiar with the Chinese horoscopes, here is some info on the year of the dragon.The Dragon is a creature of myth and legend, a symbol of good fortune and sign of intense power, and share certain characteristics (innovative,
Enterprising, Flexible, Brace, Passionate, Scrutinizing, unanticipated, tactless, etc.). The key to the Dragon personality is that Dragons are the
free spirits of the Zodiac. Those people born in Dragon years are to be honored and respected (if only I could get my kids to learn that).
Dragons must be free and uninhibited. An extroverted bundle of energy, gifted and utterly irrepressible, everything Dragons do is on a grand
scale – big ideas, ornate gestures, extreme ambitions. However, this behavior is natural and isn't meant for show. Because they are confident,
fearless in the face of challenge, they are almost inevitably successful.
However, Dragon people be aware of their natures. Too much enthusiasm can leave them tired and unfulfilled. Even though they are willing to aid when
necessary, their pride can often impede them from accepting the same kind of help from others. Dragons' generous personalities give them the ability
to attract friends, but they can be rather solitary people at heart.
—
The characteristics of the Dragon Sign are tempered by one of the five Chinese elements of Metal, Water, Wood, Fire and Earth overlaying a 5-year
cycle of characteristics on the original 12-year cycle.
THE FIRE DRAGON 1916 AND 1976
The Fire Dragon is a powerful force to be reckoned with. This is a Dragon doubled! The Fire Dragon can move from calm and collected to combustible
in a matter of seconds. In some ways the Fire Dragon is his or her own worst enemy. These Dragons cannot help feeling they are valuable and
all-knowing. When they are right their vehemence and vigor is an asset to the cause, and though they value objectivity, they do not always employ
the best decision-making measures, and sometimes jump to the wrong conclusion. They also suffer from recklessness and quick tempers. Yet,
when they do keep their temper, emotions, and rivaling spirit under control, they emanate a commanding influence on other people.