Ideas For Throwing A Cupcake Party on a Boat
Are you tired of planning the same type of birthday party, with a large, rectangular sheet cake at home in the backyard? Looking for a unique way to create a memorable experience? How about throwing a cupcake party at a unique venue, like a boat!
Food for Thought
When choosing the type of boat to host the party on, there are a few items to consider. How old the birthday person is, how many people will be attending, and how much you plan to spend to rent it. This will give you a better idea of the size and type of boat you'll want to rent. It is also important to make sure that if you hire from a private service that the boat's captain has a valid boat licence to operate the watercraft.
When planning a birthday party on a boat, there are some special aspects to consider. Chairs, tables, and any decorations need to be secured against the constant movement of the boat and potential wind. Balloons, especially latex balloons, would not be recommended. Instead, consider using streamers that are securely attached to the boat.
Cupcakes: A Sweet Idea!
Cupcakes will be replacing traditional flat, rectangular sheet cake at this party. It is like having lots of miniature individual cakes for the guests to choose from! Cupcakes can come in many different flavours, sizes and frostings, each decorated with a variety of toppings to fit the desired theme.
The next item to think about is the overall theme of the party.
If the boat is traveling to a restaurant, such as a seafood place located on the water, then fish and marine animals (such as lobsters or crabs) can provide decorative accents. These can be specially created as cupcake toppers made in either chocolate or fondant. Colors in shades of blue and green will add to the overall ocean theme.
Below is an example of vegan blogger, Maida's Under the Sea cupcakes via her blog MissionVegan.com.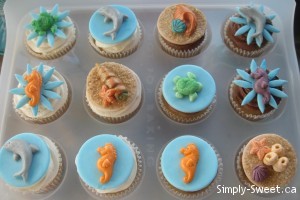 If the boat is traveling to an island, then a beach or luau theme may be more appropriate. Edible seashells or flowers can be made from chocolate and used along with a beige, aqua and bright pink color scheme.
This photo below is from Dressmycupcake.com, which can serve as inspiration.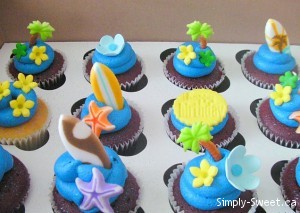 Tip: Crumbled graham crackers or toasted coconut flakes dyed green make a great edible sand and grassy backdrop to the cupcakes.
If the boat is going to be cruising on the water, sightseeing, draw some ideas from that too. Lighthouses, seagulls, whales, and sunsets are a few examples of potential sights. Cupcake toppers can be crafted to anything desired. With cupcakes, the possibilities are endless!