There are so many talented and creative people in the cake world it's mind-boggling. As much as I am amazed at their skills I am even more curious as to what makes them tick… where do they find their inspiration… and do they have any tricks to share! So Sweet Bytes was born to share their insights with you!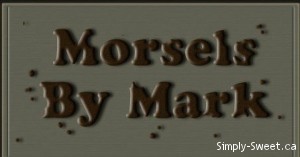 To kick off 2012 we are starting the Sweet Bytes series with Chateauguay's own Mark Desgroseilliers of Morsels by Mark. After taking a basic course at the Parson School of Culinary Arts, Mark went on to study with the Food Network's Sweet Genius, Ron Ben Israel, the rocking Jennifer Dontz, acclaimed sugar artist Alan Dunn, and Food Network Challenge multiple winner –  James Roselle!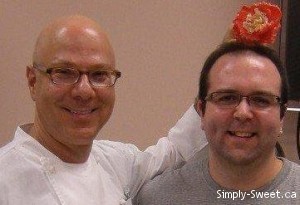 As well as his own blog (Morsels by Mark) he regularly posts blog tutorials on cake sites like Decorate the cake to share his adventures in experimenting with new techniques, including his own instructional DVD's and teaches cake instruction and sugar flower classes locally here in Montreal!
If all that wasn't enough, Mark is also the administrator for the Montreal South Shore chapter of the Canadian Cake Decorator's Guild and a member of ICES.
Here is a bit of sugar from Mark!
Q: What drew you to caking?
A: Occasionally I would help my aunt decorate cakes using the Wilton method as a kid, but about 6 years ago after watching Food Network Cake Challenge I started researching online, and decided this was what I wanted to do!  My first fondant covered cake was for my wife's birthday and I used a homemade fondant recipe that was horrible, but it was a start.  I kept at it, doing more research and experimenting, and here we are today!
Q: Tell us something about you & caking that others might not know.

A: That's a tough one!  Seeing as I have my own blog and am active on a lot of the cake forums, I am pretty much an open book!  A lot of people don't yet know that I am in the process of trying out for TLC's Next Great Baker.  Something else would be that I am a closet dust fanatic!  I don't care if it's petal, shimmer, disco….if it is one I don't have yet, I have to get it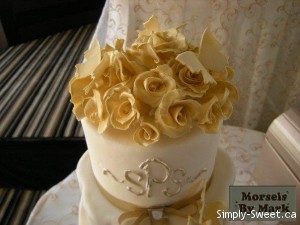 Q: Where do you find the greatest inspiration for your creations?
A: I've been lucky to have many customers who are creative and let me run with ideas.  I pull inspiration from everywhere!  Much of it comes from nature, fabric, magazines.  My wife just came back from a business trip in India.  She took some amazing pictures of the buildings so we could see the architecture, but all that came to mind was how I could incorporate it into cake!
Q: You have studied with some of the greats in the cake world – what is your fondest memory? (advice, lessons, surprising techniques, funny story)
A: I am very fortunate to have studied under such talented people as Alan Dunn, Jennifer Dontz, James Rosselle, and the maestro himself – Ron Ben Israel!  I could tell you some stories (like how Jen D went for a butt grab), but then I'd have to kill you (or ban you from publishing) -us cakers are crazy people!  Probably the best experience was getting to spend quality time outside of class with my BCF (best cake friend) Chrissie from Icing Inspirations and James Rosselle when she hosted his class in Kitchener.  We would go out to dinner after class and just talk – I learned alot about the competition side of the industry and also developed a deeper respect for them as artists!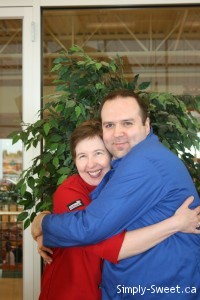 Q: What is your favourite sweet treat? (cake flavour, type of dessert or perhaps something you haven't tried yet but would like to?)
A: I actually have 3: Deep Fried Cheesecake from Crabby Joe's in Kitchener, my co-worker John's chocolate chip cookies, and my Nana's Nanaimo Bars (she has long passed, but I use her recipe, so it's almost as good as I remember)
Q: Who would you like to create something sweet for?
A: Don't laugh… but Britney Spears.  My wife and I are huge fans, and I really think her personal style and fun demeanour that we see in videos and on her tour would translate so well into cake!
Q: What is your favourite thing about caking?
A: Aside from teaching the craft, I would have to say the fact that I get to express myself artistically through sugar!
Q: With the internet, youtube, instructional DVD's & classes there are so many techniques & styles for caking to use, is there any techniques/styles you prefer? Wish you got to use more? Were challenging? Are too overdone?
A: Until recently, decent classes in English in Montreal were hard to come by (and still are to an extent), so the net helped me learn ALOT!  My preferred technique is fondant work – I love the way it gives a polished look to the cake.  I also love sugar flowers – something I have become quite good at.  I wish I could airbrush more, but am not good enough at it yet to feel comfortable enough (that'll be fixed in June 2012, when I study under Rick Reichart of Cakelava)
Q: We've all been there when our sweet creations have not turned out as we would like – what do you do in those situations? Can you give us an example of a learning experience, what happened, and what you took away from it?
A: Honestly, I freak out (very temporarily) when things don't go my way, but then I just breathe and re-group and attack the problem logically.  Most recently, I had an issue with a competition cake when adding some finishing details; I broke 1 flower, then 4 more as I tried to fix it.  I had been well prepared and had extra petals, but they were all breaking as I was dusting them!  It turned out that the new flower paste I was using didn't react well to humidity when it dried, becoming brittle.  I ended up scrapping the design since the cake had to be shipped and I redesigned my entire entry.  What I learned from this was to not try new things under tight deadlines. I should have tested the recipe before making 100 flowers without knowing the product!
Q: What is the one thing in your kitchen you cannot live without for caking?
A: My Kitchen-Aid mixer.  It makes my life so much easier!  Mixing batter, making and rolling out flower paste, whipping buttercream – it's all faster with my KA!  Now if only I can get it to do the dishes…….
Q: Where do you see yourself in six months? a year? 2 years?
A: Great question!  In 6 months, I will likely still be working my day job while climbing the cake ladder with more classes (teaching & taking), as well as working on another DVD (my winter flowers DVD shoots in 2 weeks, and will be available for sale mid-October, but I already have the next 2 DVDs in the pre-production stage).  In 1 year, I hope on travelling more to teach, maybe do some televised competitions.  2 years from now, I am hoping to have my own Cake shop and school up and running!
Q: Any advice for up & coming cakers?
A: It sounds hokey, I know, but believe in yourself & don't give up!  The art takes time.  Take as many classes as you can, learn from DVDs (especially my classes and DVDs – I know, I know – shameless self-promotion =D ).  Above all else, ask questions – it's the best way to learn!
To find out more about Mark's classes in the Montreal area visit his site here.
If you would like to order Mark's Peony dvd or pre-order his winter flower dvd click here.