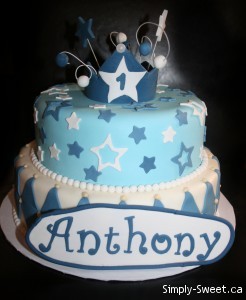 This cake was to help a little boy celebrate his first birthday. The mom calls him her little king (le petit roi), so I thought the crown was fitting!
The top layer is carrot with whipped cream cheese filling and the bottom is chocolate with whipped vanilla filling with fresh strawberries and a homemade syrup.
There was also a smash cake that I forgot to take pictures of.
I really loved the diamonds and hope that I get another chance to do something like this again soon.