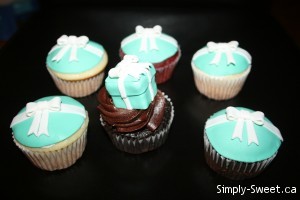 What girl doesn't want to receive a Tiffany's box…. the blue is recognizable that any girl who has dreamed of ever getting married to her prince charming will recognize the shade… moms all over decorate their daughters rooms in the color in the hopes they will one day get the illustrious blue box!
What's better than receiving the blue Tiffany box? Getting one that you can eat! These cupcakes were for a corporate order – a client was visiting who they knew had just gotten engaged (I wonder if her ring is from Tiffany's) and they wanted to surprise her – a GREAT idea!
The client sent me this lovely note afterwards:
Hi Paige!
The cupcakes were delicious and were a total hit. I had ordered them for a clients birthday and she was floored!!
Thanks
T