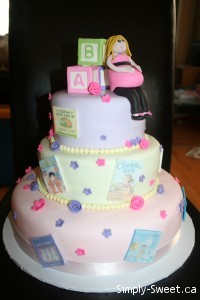 This was a great cake to make & a great client to work with (I really am so lucky that I have such amazing clients!!).
This was a corporate client who was throwing a baby shower for someone who already had children, so they decided to have a baby book shower, where everyone would give books as gifts (since she already has the traditional baby items).
The cake was vanilla with vanilla cream filling and it was fun to make & from what I hear, they had a great time enjoying it too!
As I always love to hear from clients, I was so happy to get this note a few hours after delivery:
Hello Paige,
Your cake was a total hit! And delicious! I had many, many people come up to me and ask me where I had it made.
Thank you so much for a great job.

Well done!
Thanks again,
L