I was so touched that Simply Sweet was mentioned in the Montreal Gazette article on the recent ICRF event that Simply Sweet donated cupcake bouquets to help the great group of young women organizing a local ICRF Fashion show event that raised almost $50,000 for cancer.
"Mess hall magic: While the active tour of onstage duty kept everyone dancing in (and out) of their seats, sustenance was close by in the form of edible table bouquets fashioned out of Simply Sweet's so devourable red velvet cupcakes."
See below for the full Montreal Gazette article.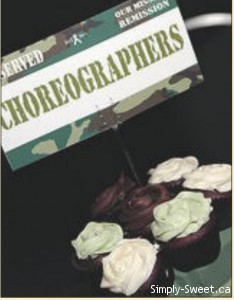 Photograph by: Martin Banoon Graphy, Freelance
YOUTH: AN AWESOME TACTICAL ADVANTAGE
Attention Notie platoon: This is Private Social Jennifer Campbell, proudly representing the Montreal Gazette Newspaper Base, Weekend Life Division, reporting for official column duty on Saturday, March 26, 2011. Be prepared for every event eventuality and saucy squadron scoop. Today's mission: To document the triumphant details of the Israel Cancer Research Fund's 17th Annual Experience Fashion Show "Our Mission: Remission." The ICRF recently notched an important victory at a popular battleground, the Corona Theatre, comprising part of a yearlong operation to harness the potential of future generations.
General sitch: Cool übercapable co-generals Jill Levi and Stefanie Martel devoted every spare second of the better part of a year to mission prep, alongside equally cool and übercapable coordinating corporals Carly Cohen, Michelle Cola, Shira Levitt, Dahlia Monk, Sally Saleh and Kaitlin Wiseman. Each highly decorated young leader confided a fervent desire to come together for "Mission: Remission" and make a difference in the fight against cancer.
Uniform perfection: It's no easy feat outfitting a legion of 66 performing soldiers. But dedicated majors Jaclyn Marcovitz and Michele Rabinovitch were relentless in their pursuit of sartorial success. (Scoop: They owe a great debt to special style envoy, Sheryl Rosen Adler of The Wilshire Group, who generously donated all of the enviable threads on the catwalk).
High-performing soldiers: If the powers that be at Dancing with the Stars were strategic, they would immediately deploy secret agents to ICRF fashion headquarters to recruit fresh talent. These young soldiers know how to shake it! A round of civilian applause pleez for the performing privates and their choreographers: Tanys Dubrofsky, Britt Crystal, Julia Schwartz, Kelly Aisen, Tory Rozansky, Ali Itzkovitz, Ali Sigler, Shonnie Benaroch, Maggie Harris, Lindsay Gerstein, Jessie Reider, Dana Ben David, Jess Stern, Adam Cola, Britt Klumak, Sacha Mosseri, Stephanie Paperman, Mady Palevsky, Sammy Shapiro, Morgan Buchsbaum, Lindsay Waxman, Tay Madew, Natalie Sutton, Courtney Brody, Danielle Shapiro, Alissa Aronoff, Katie Cohen Olivenstein, Jill Friedman, Talia Buksbaum, Audrey Kucer, Franki Gralnick, Jessica Greenberg, Nikkie Raviv, Belle Benlolo, Amanda Leibovitch, Melissa Bendayan, Amanda Prizant, Jessie Lackstein, Kiana Monk, Amy Garfinkle, Jaimee Kravitz, Nikki Nahoum, Jaime Scaife, Alex Kakon, Sarah Freedman, Andrea Kessous, Ronnie Eliesen, Kelly Saleh, Christine Harrison, Emily Kirstein, Jessica Welik and Gabrielle Rashkovan.
Combat advocates: With that kind of talent it's no wonder more than 700 patrons turned out in their chicest after hours regalia to lend support. Not surprisingly, many were from the prestigious parental detachment. Sneak peek: ICRF Montreal president Andy Kirstein and wife Jackie, co-chair of the coming 2011 Gala; staunch supporters Heather Paperman and Anna Sue Greenberg; Maximage's Brenda Rosenberg (with hub Hillel Frankel) selfless supplier of all stylish ammo including T-shirts, notepads, bags and more; fabulous Phil Levi with sig other Elaine; and of course, ICRF top brass Arlene Silver and Sheryl Ramroop.
Mess hall magic: While the active tour of onstage duty kept everyone dancing in (and out) of their seats, sustenance was close by in the form of edible table bouquets fashioned out of Simply Sweet's so devourable red velvet cupcakes.
Boot camp video: The show, the nosh, the peeps all rocked. But what truly underscored the driving force for the night was a powerful themed video created by Elie Bedran Videography featuring heartfelt testimonials by cancer survivors Ernest Rashkovan, Adonna Greaves and Jake Shtern. Their drive, courage, and will to beat the disease were everyone's inspiration to do their part and champion the mission.
The Coup de nuit: The make-it-happen militia raised close to $50,000 for ICRF's fight for a cure – highlighting the immeasurable potential of the next generation.
Final photo detail: How apropos that today's guest photographer was as young and determined as his counterparts at ICRF. Sergeant Martin "aim and shoot" Banoon, we applaud your professionalism and salute you!
Read more: http://www.montrealgazette.com/health/Social+notes/4507371/story.html#ixzz1HiopgV00
http://www.montrealgazette.com/health/Social+notes/4507371/story.html