I love working with others to create an amazing sweet table – there is no end to what you can create!
When looking for cupcakes the sweet girls from Sweet tables served Montreal's best – Simply Sweet mini red velvet, chocolate & vanilla cupcakes to all the 150 attendees of the Orchestre Symphonique de Laval cocktail.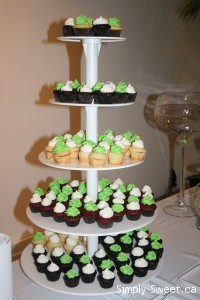 I also go to try these amazing candied grapefruit… that I'm still craving! I've got to find somewhere in Montreal that sells them!
These are so pretty, with the matching colors, I can't help bu think they would be perfect for any wedding, baby shower, or any event at all really!
Here are some pictures from Sweet-Tables:
For more of sweet tables photos, please visit here.