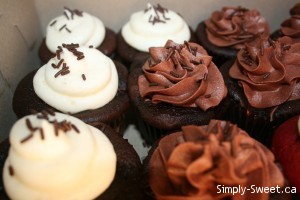 Every time I make the Black Forest cupcakes I am reminded of how good they are… I really don't know why I don't make them every week… oh that's right, because I'd eat them all!
These are chocolate cupcakes stuffed with a cream cheese filling and cherries in sauce.
To make these a little different I did some with buttercream frosting, some with chocolate and some with cream cheese!! All were very different – but ALL were tasty.
It really is surprising how different just changing the frosting on cupcakes can make a great difference and offer you a variety of flavors!