Although I thought this was gonna be easy, it turned out to be one of my most challenging cakes, mostly due to the attempts at rounding the bottle! In the end, I  was pleased with how the cak turned out & they were happy too!
I got this lovely note from the client afterwards:
"Paige,
It was AMAZING. Everyone loved the cake and it was delicious.  I am already having some cake ideas for my other son when he turns 21 in May.
Sandy"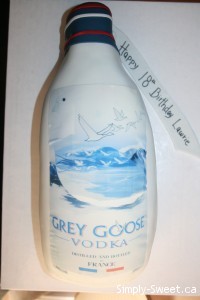 Here is the cake from the inside (thanks for the pict Sandy!).