This was such an amazing cake to make… and I have to admit I am SUPER happy with how it turned out.  The fact that it is for the cutest little boy also helped.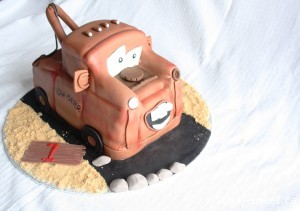 This was my most intricate 3-d cake yet and I have to say I am super happy at how it turned out. I thought it might be more difficult but I quickly learned that with the right tools and a bit of creativity anything is possible.
I think even the most experienced cake maker learns something with every cake.  For this cake I learned that with all the time in the world you can  make anything happen (it helps having a great assistant too).
The problemis that if your lucky you have more than 1 order, kids, husband, friends, and a million other things all vying for your time… so you have to prioritize. Start with the things that you must absolutely have, then work down from there leaving the lease esential things for the end. Also, if possible try to figure out dimensions and do anything in the days ahead you can.
I'm working on this lesson of time management and planning in advance currently and trying to do in-depth sketches and planning as much as possible in advance.  Guess we'll have to wait for the upcoming cakes to see… the next big test will be a Ben 10 cake next weekend.