Mmmmmm I had forgotten how good these cupcakes were, and am SO thankful I had an order recently to remind me!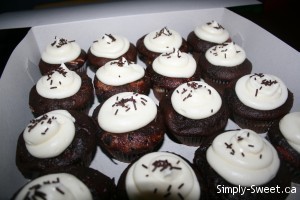 With all the varieties of flavors Simply Sweet provides it allows Montreal cupcake fans to create a lot of unique flavors, and some creation cupcakes like our Black Forest one is AWESOME!! A chocolate cupcake stuffed with cream cheese & a cherry filling, topped with buttercream frosting, I can't help but thinking they'd be great with chocolate ganache frosting too…. gotta try that one soon.
This truly is why I love cupcakes, there are so many options you will never get bored – as long as you can get creative in your choices there is always a new cupcake flavor!