Sometimes you get to work with some really cool people, doing some really cool things! That was the case when I worked with Le table a bonbons/Sweet Tables, a Montreal company that provides stylish dessert tables/ sweet tables with unique designs and sweet treat candy! Simply Sweet is hoping to work with them more in the near future providing cupcakes, cookies and more for their amazing Sweet Tables, so keep an eye out!
Here is a picture of the cookies Simply Sweet provided.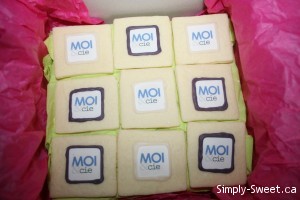 You can see more photos of the sweet table & Simply Sweet's cookies here: http://www.sweet-tables.com/2010/12/moi-et-cie-plus-en-details.html. Including this one below, which is awesome!