Montreal Food Examiner Liliana Tommasini wrote an article about Cupcake Camp Montreal 2010 & included a Simply Sweet recipe for Lemon Cupcakes with Lemon Crean Cheese Frosting. Below is the recipe and to read the full article click here.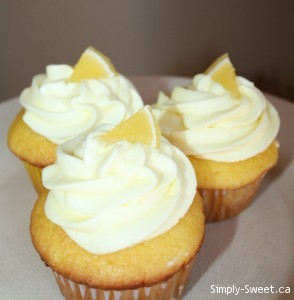 Lemon Cupcakes Recipe
The  Lemon Cucake Recipe listed below is  courtesy of  Simply Sweet (one of Montreal Cupcake Camp's sponsors)
Ingredients:
1 1/4 cup flour
1 teaspoon baking powder
1/8 teaspoon salt
1/2 cup butter
1 cup sugar
2 eggs
1 Tablespoon lemon juice
3 tsp lemon zest
1 1/2 teaspoon vanilla
1/2 cup milk
Directions
Preheat oven to 350 degrees. Line 12 baking cups with paper liners.
Sift cake flour, baking powder & salt. Beat butter and sugar until smooth (around 2 minutes). Add eggs, one at a time until creamy. Add lemon juice, lemon zest, vanilla and beat 2-3 minutes.
On low speed add sifted dry ingredients and milk alternating (beginning and ending with dry ingredients). Mix just until incorporated and no lumps in the batter.  Fill cupcake pans 3/4 full and bake 23 minutes.
This recipe goes great with lemon buttercream frosting or lemon cream cheese frosting (below).
Lemon Cream Cheese Frosting
Beat 1/2 cup butter, 4 ounces of cream cheese, 2 teaspoon grated lemon peel, 1 teaspoon vanilla until combined. Slowly add in 2 cups powdered sugar until smooth. You can add a little milk or more icing sugar to get the consistency you are looking for.