What a day! So many Montrealers came out to support Cupcake Camp Montreal. All those who donated the almost 21,000 cupcakes, volunteered their time &/or bought all the cupcakes (especially those who waited in line before getting their sweet treats) should be very proud that they helped raise $34,500 for Kids Help Phone & Tablee des Chefs.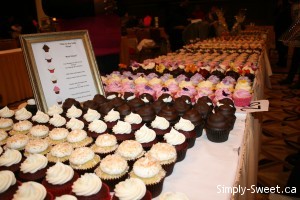 It was literally a sea of cupcakes! There were so many amazing flavors it was hard to choose, I don't know how people could walk away with only 3 or 4! Some of the more unique ones were a Portuguese spice cupcake with Portuguese sausage, coconut curry and a Quebec favorite meal: Pate Chinois/Sheppard's pie (made with chocolate and cream cake, topped with a piece of dried beet! – see photo below, sorry I didn't get the name of the bakers). There was also a cheesecake cupcake that looked fabulous by Sweet Lee's Montreal Cheesecake (see photo below).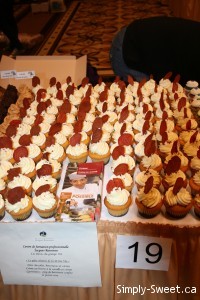 There was so much to see and do … the gourmet coffee, movies for kids, a kid play area for coloring & fun and just the excitement of being in a room with over 20,000 cupcakes! Did I mention the Cupcake Camp Montreal judges?? Nadia G, Ricardo Larrivee, Chuck Hughes and more!  I got the change to speak with Ricardo  of Ricardo & Friends on Food Network, who is just the nicest down to earth person. I don't know why I expected anything else, but I was very pleasantly surprised. And Nadia G of Bitchin Kitchen on Food Network, spent a few minutes with me too and can I just say she is even more beautiful in person??
Another fun thing to do was the Cupcake Cannon where you could buy a cupcake for a donation to the charities & have it shot at someone else or yourself!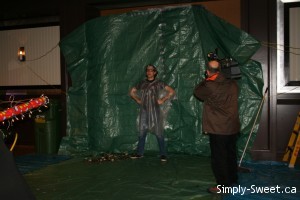 And lastly the competition… there were some seriously talented people taking part in the competition!  My fondant  iPhone with cupcake camp Montreal logo made it into the finals! I also had a fondant blackberry with the Cupcake Camp Montreal logo on it, but it went missing during set-up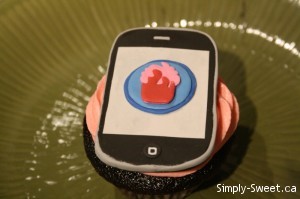 I was really impressed with the kids competition (photo below) and the amateur cupcake entries, especially the amateur entry of a fairy – great job by everyone!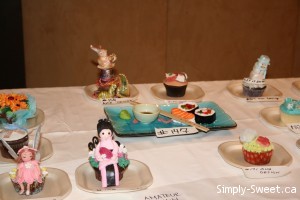 Here's the list of first and second place winners:
Best pro taste:
1st: Camilla Ingr (Caramel Corn)
2nd: Suyen Han (Mellow Yellow Double Trouble Lemon Macaron Cakes)
Best pro design
Chantale Tremblay (Bath Time)
Natalie Hared-Vukota (Vintage Tea)
Best amateur taste
Christelle Robitaille-Hains (Sublime citrouille)
Michelle Clark (Salty Sweet Caramel Treat)
Best amateur design
Maathu Gnanendran (Let It Snow)
Micaela Bianchini (Gobble Me Up!)
Best kids taste
Eric Clement (The Reject)
Robin Richard-Shaw (Cookie and Cream)
Best kids design
Angelica DiMarzio (Hello Kitty)
Carolyn Chin (Clowning Around)
Best Montreal theme
Catherine Langevin (It's Fun to Be in Montreal!)
Marie-Eve Girard (La ronde version comestible!!)
Best of Montreal – public vote, design
Vanessa Pampena (Mario & Luigi
All in all it was an amazing day that did something spectacular. It is really amazing how something so small, like a cupcake, can do something so powerful!
Check out some more picts on my flickr: http://www.flickr.com/photos/simply-sweet/sets/72157625320551317/