I'm always looking for new cupcake ideas & inspiration and if you're a cupcake fan you probably know about Cupcakes Take the Cake,  the #1 blog for cupcakes, which shares amazing photos, recipes and sites!
What you may not know is Bake It in a Cake where they bake everything in a cupcake. For Halloween they had lots of great ideas like Brownie stuffed Oreo cupcakes (pictured below). One of the great things about this site is they also include recipes for all their awesome creations!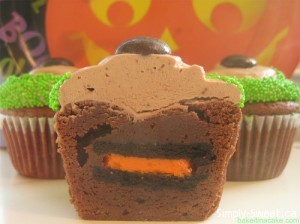 Keep an eye out, we'll be trying some stuffed cupcakes in our upcoming Friday specials!